Book Reviews
Title: Everless
Author: Sara Holland
Review:
Jules Ember lives in the world of Sempera, where time is the currency. She gores through many complications, in finding the truth of her past and her family heritage. I enjoyed reading this fast-paced novel, that had such a twisted and suspenseful plot. Readers who enjoy fantasy, romance, and suspense will love reading this book.
Title: The Vault of Dreamers
Author: Caragh M. O'Brien
Review:
Rosie Sinclair gets accepted into the Forge School, which is a school for the arts. Once there, she discovers the truth about the school and uses her creativity in exploring the secrets and wonders of the school's main purpose. She also falls into a romantic relationship with a kitchen boy, who helps her understand her true self. This book was very suspenseful and it kept me to the edge of my seat. Fans of science fiction, mysteries, and romance, will love reading this novel.
Title: Turtles All The Way Down
Author: John Green
Review:
Aza Holmes suffers from a bizarre illness and deals with many complications in life, including a love triangle, difficult decision making, and crimes. After a few things happen, her life is completely changed and she sees everything in a new way. This book kept me to the edge of my seat and I couldn't stop turning the page because of the suspenseful plot. I would recommend this book to fans of mysteries, thrillers, and romance.
Title: The Big F
Author: Maggie Anne Martin
Review:
After flunking her AP English course and getting rejected by Ohio State University, Danielle disappoints her family and enrolls at Denton Community College, where she takes a job at a bookstore and have romantic affairs with 2 boys. Throughout the book, she discovers many skills and abilities, in which she was not aware of previously. She also discovers the truth about many scenarios. I loved how romantic the book was and how it made me not want to put it down. This book is a must read for fans of romance, relationships, and college-bound students.
Title: The Chaos of Standing Still
Author: Jessica Brody
Review:
After an unexpected delay for her flight at the Denver airport, Run manages to have fun waiting for her flight, after meeting Xander. She and Xander have fun with each other and they learn many secrets from one another, during their overnight stay at the airport. Cadie learns many lessons and consequences from airport policies and reading this book helped me understand procedures at an airport more clearly. I love the engaging plot and the romantic moments throughout the book. Readers who love romance and adventure would love reading this book.
Title: The Devil You Know
Author: Trish Doller
Review:
Cadie has a stressed life taking care of her dad and her little brother, after her mom's death a few years ago. When she meets 2 cousins at a party, she decides to go with them on a road trip, which turns out to be fun, dangerous, and bizarre simultaneously. When she finds out the many secrets and truths about the 2 cousins, Cadie is fortunate to have a blessed life. I loved how suspenseful this book was and kept me turning page after page. I would recommend this book to fans of suspense, mysteries, and thrillers.
Title: Texts From Jane Eyre
Author: Mallory Ortberg
Review:
This book is a humorous and fun collection of literary characters from classic books, in which the author creates contemporary conversations, using text messaging. I enjoyed reading the many conversations, including ones from Hamlet, Pride&Prejudice, and Jane Eyre. I would recommend this book to teens who enjoy humor, creative literature, and contemporary literary conversations.
Title: Joyride
Author: Guy Adams
Review:
Teens around the world are acting in very mysterious and dangerous ways, which are ridiculous and unexplainable. A group of people decide to investigate and discover many secrets and the reason to the teens' strange behaviors. This book was very action-packed and I loved the suspenseful and since-fiction oriented aspect of it. I would recommend this book to fans of suspense and science fiction.
Title: In a Perfect World
Author: Trish Doller
Review:
Caroline moves to Egypt and has a romantic summer when she meets Adam. She and Adam explore Egypt and have a great time learning more about the diversity of Egyptian culture. I enjoyed reading this book and was very fascinated with the many facts about Egypt that the author includes. The writing style is very realistic and I would recommend this book to fans of romance and culture.

Title: Kill Me Softly
Author: Sarah Cross
Review:
Mirabelle goes on a fairytale like adventure and discovers many secrets and truths. I loved how the plot is very suspenseful and kept me to the edge of my seat. I would recommend this book to fans of fantasy, fairy tales, and suspense.

Tilte: Call the Shots
Author: Don Calame
Review:
Sean and his friends create a horror movie, to better in a video contest, hoping to win the grand prize of money. They encounter many difficulties and face many challenges along the way. I loved the suspense and would recommend this novel to fans of suspense, thrillers, and humorous novels.
Title: Night School
Author: Christina Daughterty
Review:
Allie Sheridan gets sent to an eccentric boarding school that has many mysterious secrets. She discovers many truths and face her own challenges. I loved the suspense and would recommend this book to fans of thrillers, suspense, and romance.
Title: The 3rd Eye
Author: Lois Duncan
Review:
Karen has strange dreams of visions of orphaned children and finds ways to save these kids. She goes on a wild adventure, dealing with many peculiar situations. I enjoyed the thrilling parts of the book and would recommend to fans of thrillers and suspense.

Title: Subject to Change
Author: Karen Nesbitt
Review:
Declan lives a normal life, but it all changes when his brother is accused of a crime he didn't commit and he also ends up in the hospital. This novel was a sad book, that talked about depression. I liked how the author described the setting and plot in detail. I would recommend this book to fans of mysteries, crime fiction, and suspense.
Title: Inherit Midnight
Author: Kate Kae Myers
Review:
Avery gets kicked out of her boarding school and participates in her grandmother's inheritance contest. She goes on a wild adventure and faces many challenges along the way. I loved the fun facts the author puts in and the suspense of the novel. I would recommend this book to fans of suspense, mysteries, and thrillers.


Title: The Vanishing Game
Author: Kate Kate Myers
Review:
Jocelyn goes on a hunt for her missing twin brother and finds out many secrets and truths along the way. She goes on a wild adventure that makes her find her destiny. I loved the suspense and would recommend this novel to fans of suspense and thrillers.
All the Bright Places
Author:  Jennifer Niven
Review:
This novel was a cool romance story, that talks about the relationship of 2 teenagers who experiences any life-changing situations. I would recommend this book to fans of romance and suspense.
All the Truth that's In Me
Author:  Julie Berry
Review:
A novel that was very confusing because it told the viewpoints of 2 different people. I liked how the author used context to explain the plot. I would recommend this book to fans of suspense and realistic fiction.


Author: Cara Chow
Review:
Francis lives in a restricted life, with many strange expectations. I loved how she struggles with her difficulties and learn to face many challenges along the way. I would recommend this book to fans of realistic fiction and relationships.
Author: Jo Knowles
Review:
Fern's life is torn apart, after the death of her brother, Charlie. She begins to see the realities of life and having suicidal thoughts. I loved the realistic views of this book and would recommend this book to fans of realistic fiction and suspense.
Author: Rainbow Rowell
Review:
Eleanor and Park live in confined lives and have a memorable romantic relationship together. I loved reading the love scenes and would recommend this book to fans of relationships and romance.
Author: Catherine Clark
Review:
Colleen and her friends experience a memorable summer on a island in Maine, where many things happen, that changed their lives. I am very impressed with the writing style and would recommend to all fans of romance, summer fun, and suspense.

Author: Jamila Stevenson
Review:
When Asha and her friends get rejected by a club proposal, they form a club by themselves called the Latte Rebellion. Many things happen that change their lives and creates humor. I would recommend this book to fans of creativity and suspense.
This novel was a fun historical book, that gives a taste of what life is like to be a warrior in Greek mythology. The characters are identifiable in realistic times and I loved how the author described each event in detail. I would rexommmnd this novel to fans of mythology, suspense, and horror.
By Aaron

This was a fun science fiction novel, dealing with robots, a mystery, and FBI agents. The plot illustrates crime in a future world. I loved the novel's clear logic and would recommend this book to fans of science fiction, mysteries, and the world of the FBI.
By Aaron
Emily goes on a wild adventure, involving poetry, disasters, and mysteries. I loved the thrilling chapters of the novel and would recommend it to readers who enjoy mysteries, suspense, and crime.
By Aaron
Jace's life is turned upside sown when he is asked to deliver a package as a messenger, which leads to a full on killing chase of the law and crime. I loved the fast paced action and the visuality of the realistic scenes in the novel. Fans of crime, law and suspense would enjoy reading this novel.
By Aaron
Title: The Improbable Theory of Ana&Zak
Author: Brain Katcher
Review:
Ana and Zak go on a wild adventure when Ana's brother, Clayton, sneaks off to the convention center in Seattle. There, they embark on a crazy journey, involving many dangers and surprises. This book was an amazing read because of the fast-paced chapters. I would recommend this outstanding novel to fans of thrillers, suspense, and comic books. I loved how the author used his creativity and senses to craft up such an awesome novel.  By Aaron
Title: Company
Author: Max Barry
Review:
Fans of mysteries, thrillers, and suspense will love reading this novel. Stephen Jones is the newly-hired employee at Zephyr Holdings, a bizarre company filled with many surprises. When Stephen discovers a hidden secret of the company, he goes on a wild adventure, that involves many plot-twisting and thrilling outcomes. I give this book a 5-star rating because of the fantastic descriptions in each chapter and the suspenseful moments of wonder.   By Aaron
Title: Perfect Escape
Author: Jennifer Brown
Review:
Fans of road trips, love, and humor would love reading this novel, that discusses the bizarre relationship of Kendra and her older brother, Grayson, who has OCD, that prevents him form being normal. As a way to run away from Grayson's OCD, he and Kendra, go on a wild road trip, that involves hitchhikers, adventurous moments, and betrayals. I loved this humorous novel, filed with amazing wonders, daunting discoveries, and the romantic relationship of the 2 siblings.  By Aaron

Mark's life goes downhill, when he and his brother, Ricky, witness a crazy man, murdering himself. This witness, causes Ricky to fall into a coma, and turns everything bizarre, when FBI agents, a lawyer, judges, and criminals are involved. I loved reading this crime novel, filled with realistic law orders and the astounding scenarios. I would recommend this novel to fans of the law, suspense, and life as an attorney and judge.  By Aaron

Title: Blood Sun
Max Gordon goes on a wild adventure, involving many peculiarities and truths, when he learns that his father is hiding a powerful secret. Along the way, he meets and faces many challenges that helps him discover the secret. This novel was very fast-paced and action packed. I like the way how the characters face their difficulties, using different techniques. I would recommend this fun novel to fans of suspense, mysteries, and action- packed fun.  By Aaron

Title: iBoy
Tom's life completely changes, when an iPhone crashes into his brain, and leaves little fragments of it in his head, that allows him to become an iPhone himself. He struggles through many difficulties and goes through many disasters, that creates a suspenseful and humorous novel. I loved how the novel was structured out and would recommend this novel to fans of iPhones, technology, since fiction, and suspense.  By Aaron

Book Title: Stranger Than Fanfiction 
4 teens, along with a famous actor, embark on a road trip, that changes each of their lives forever. Along the way, they discover fun facts, uncover many secrets, and overcome the difficulties of trust, love, betrayal, and their future. This novel was a fun read and I loved the creativity and clear descriptions of the places covered in the book. I would recommend this novel to fans of romance, adventure, and suspense.
By Aaron
Love Hina
Love Hina is about a 20 something year old who's aunt ask him to visit her at her house in Tokyo. Heathen discovers that she has left to go around the world. She wants him to become the land lord of her house which turns out to be an all girls dorm.
The residents end up trying to over work him with land lord duties to force him to leave. Love Hina especially wants him gone. Nina is also trying to get into the same college as Ketarro (the main character) and she decides to tutor him to help him get into college together. Ketarro has a flashback to his childhood of a girl he met at his aunt's house and he thinks the girl is Hina but she doesn't believe his memory.
The story line has a few twist and turns. Mostly it's a budding romance between Ketarro and Hina which they go back and forth on mostly with hina not accepting that she's beginning to fall in love with Ketarro.
I'll Give You the Sun

Jansy Nelson
I'll Give You the Sun
i really like this book a lot. The storyline is good and the characters are well thought out. What I like about the book is that all the characters are damaged in their own way the mom is very dreamy and their dad is very masculine. He tried to project his masculinity on his son who is quite the opposite of masculinity and which cause his father to be disappointed in him. The daughter is a daredevil wild child she always hangs out with the local surfers and always wears short shorts and shirts that are always too short and she always wears too much make up which worries her mom.
Noah and Jude are twins they are their other half's. She follows in her moms footsteps being dreamy but she is more on the quirky side. Her story is the later years of both of their lives during their high school lives. Judd gets into a prestigious art school but Noah doesn't. There is a reason why she gets in but not Noah.
Eleanor and Park
Rainbow Rowell
I like the book a lot it was a good book it was a very well written. High school teen romance the only problem I had with the book was that Richie was an abusive husband and an alcoholic.
Eleanor is a chubby redhead and Park is the only Asian in their high school.
They first met on the school bus they was forced to sit together. They slowly got to know each other and they then fell in love. Eleanor is very defensive on topics of her house and family. Parks friends were harassing Eleanor relentlessly until Park stood up to Steve one of the main antagonizes.
I give this book a 7.5 out of 10 stars
Law of Ueki
This Manga is about a battle of a hundred god candidates who picks junior high student to fight for the candidates for them to become god in heaven. The main character of the manga is named Kosuke Ueki who is one of the god candidates who is named Mr. k who he chooses to battle for him in the tournament that decides who will be the next (god) in heaven. He first meets his god candidate when he fell off a building and he saved him when they met later. He pretends that he doesn't know him because he didn't want to owe him anything for the save but then Mr. k shows Ko (the main characters nickname) the ability to destroy a tree. Ko asked him is there a power that does the reverse of destroying Mr. k said there is, so he then is given the ability to turn recycling into trees which in turn he becomes the god candidates choice for the tournament
Beautiful Darkness
Carni Garcia
Beautiful Darkness is the second book to the Beautiful Creatures series. There is 4 books in all, Beautiful Creatures is the first. Then Beautiful Darkness, the third book is called Beautiful Chaos, then last but not least is Beautiful Redemption.
Beautiful Darkness takes place after lena chose for herself which side she is. She's a catalysts for the dark side (dark caster) or a natural on the light side (light caster). The summer after Lena's choosing Gatlin is attacked by a huge drought. In Beautiful Creatures one of Lena's close relatives was murdered.  Presently Lena is having a hard time accepting his death. She is slowly pulling away from Ethan by not kelting (I guess you can call it a psychic link) and she stopped writing in her journal which got Ethan worried. Lena then runs away with Ridley her cousin, and a incubus/caster hybrid John breed to try to change things back to the way they were.
There are a few new new charaters in the second installment and they are…
John Breed he's a incubus/caster hybrid, hes trying to get between ethan and lena and is being controlled by Abraham Ravenwood.
Abraham Ravenwood the original blood incubus, who was cursed by the book of moons when he saved Ravenwood estate from the union soldiers. He was burning confederate houses in Gaitlin which was called the great Gaitlin burning.
Olivia (Liv) Durand
She's Marian's summer intern, who's training to become the next united states caster library keeper. She helps Ethan in finding Lena, who runs away from Ravenwood.
Ethan Carter Wate is Ethan Lawson Wates ancestor and name sake and is part of the story of the Duchaness family curse.
Genevieve Duchannes is Ethan Carter Wates fiance and is part of the story of the Duchaness curse.
i enjoyed this book a lot.
Well that's all for now I will be writing more review.
So stay tuned
peace
out
White Tiger
by Kylie Chan
White Tiger is about a young Australian lady who takes a position as a nanny to a daughter of a wealthy Chinese man.  The book starts when she's been part time nanny to Simone the daughter of John Chen (notice and remember his last name it bears significance).  After a few months of part time jobs as a nanny John asked her to become Simone's full time nanny.  Simone told him that she likes Emma the nanny a lot before she met with John. She was with her soon to be prior boss Kitty Kwok who tried to bribe her to spy on John for her but she quit on the spot. The nanny position she gets paid 20,000 dollars a year to take care of her.
Slowly she is discovering that Simone's dad and bodyguard are not what they seem to appear.  The daughter nearly told the truth when she's talking to Emma but her dad told her to tell her nothing and her bodyguard Leo is a locked box
with not telling anything.
She found something on a God who is God of the Northern heavens and God of material arts who looked exactly like John Chen.  She tried to finally get answers from Leo but he said to wait till John tells her.  A while later they had to go to Paris to meet a lady who has to meet with John to deal with something important.  When they were in Paris they were attacked by a group of men.  Leo had to take care of them when he punched him they turned into black particles. Emma demanded answers when all of them were defeated but he said wait for john to tell you the truth.  She then discovers that John is the God of the Northern heavens and that he's god of martial arts. He's the right hand of the jade emperor the lady who John meets is the goddess of mercy and Bai is the white tiger of the wests and zhu que who is the red phoenix of the south. Jade is a dragon gold is a stone qing long is the dragon king are other gods and there are human immortals who reached the tao and was raised to become immortals.  The Chinese word for god is Chen which means spirits.  When she was told the truth John said he releases her from his service but she refuses saying she loves Simone and she would not leave her.
John then told Emma that staying with them is be very dangerous because the demon king put a bounty on Johns head and who ever brings Johns head will be number one demon.
Emma eventually tried to convince John to train her in martial arts to be a nanny/bodyguard to Simone. He resisted until a demon who the guys who attacked them in Paris were demons who posed as a pizza delivery guy. Emma let her in and he grabbed Simone and ran out. John then chased the guy down and took care of him and after he tried to fire Leo but Emma said to fire her instead because it was her fault to begin with. He decided to not fire both of them. John decided to start training her in martial arts.
Emma discovers that she is extremely talented in martial arts.  She's able to do energy work which is extremely rare for a human to do. Then she discovered she is able to use Chen which only immortals can use.
I give the book 8 out of 10 starts because of the setting and story. The modernized take of Chinese mythology and for the sarcastic humor Emma has and Emma's honesty is funny. You have to read the book to understand.
Review by Salem Boyah
Perks of Being a Wallflower
Stephen Chbosky
To tell you the truth I liked the book till it got a quarter of the way through then it got really depressing and sad. You think depression is like a little bit sad and emotional but that description does not fit this book this book.
The character Charlie is not noticed at all. He then met two upperclassmen who sort of bring him under their wings helping him be more active in high school, inviting him to parties, helping him make new friends. He was all happy go lucky until he got extremely depressed when both of his friends who were step brother and sister went to the Grand Canyon.  When Charlie had his family Christmas party he became very sad. He got a girlfriend which made him happy for a time till a week into the relationship. bec
Mary his girlfriend always talks nonstop and never lets Charlie speak always talking and talking. Patrick was getting really upset.  Mary sees Charlie as a trophy and always telling him what to do. She had a favorite book and she gave it to Charlie as a present or something like that and told him to show it to everyone all day.  So after school he goes to the book store and sells the book then told his sister and starting to cry he cries a lot in this book. He's very insecure he's passive aggressive never speaks up for himself always letting people walk all over him.
The only good part of the book was the first scene in the cafeteria Charley stood up for himself.
This book is incredibly depressing
and a long read. It dragged because it was sad. There was no transitions between scenes. They are making the book into a movie which I hope will be better than the book Emma Watson is playing the female lead so that's the only reason to see it
I give this a 1.5 out of ten in other words I suggest for you to not read the book.
Reviewed by Salem Boyah

Scorpia
by Anthony Horowitz
In this book Alex goes to Italy with one of his school friends to try to find Scorpia. He goes to one of the leaders villas who was having a party for her birthday. He infiltrates the party and goes into her office and was nearly attacked by an mechanical tiger but was stopped by her second in command. He was the one who captured Alex. He was nearly drowned in the basement which was connected to the channels of the city. He barely survived. He then went to a chemical facility who was hired by the lady to create a vaccine. He then once again met the assassin who knocked him out. He then was escorted to an hotel to visit the lady. After they talked about his father he joined Scorpia. He then was asked to kill the second in command of MI6 but he didn't kill her. He was captured and then was debriefed by both leaders of MI6. They told him the true story of his father's time in Scorpia. His father ended up being deep undercover in Scorpia. He was killed by Scorpia after he faked his own death because they discovered that he was alive. He then discovered Scorpia's true plan which deals with all of Great Britain.
Reviewed by Salem Boyah
Eagle Strike
by Anthony Horowitz
In this book his friends dad was nearly killed in a explosion that was set up by an international assassin. He discovers that a world famous pop singer/idol/millionaire had hired the assassin to take care of her dad who was an reporter who was writing something on him. Alex tries to bring his friend Sabina to MI6 to prove he was a MI6 spy. He was denied access to the building because they knew he was coming in and the MI6 building cover was a bank so they acted like they were actually a bank and he was played. Sabina became very furious and ran off into the underground train system.
The assistant director came out to talk to him and told him that they needed to talk so he was brought up to the director's office. They told him that the millionaire who hired the assassin had no criminal background. He said that if they won't help him he'll go after him alone and he walked out. He then goes to the opening of the millionaire new game and he played the game and nearly beat the game but the billionaire without anyone seeing nudged his shoulder and he lost the game.
He then went to France to talk to the reporter who was working with his friends father. they were attacked by thugs with machine guns and both the reporter and his assistant died but Alex escaped. He then went to Germany to go to his research center for the game. He was captured and he escaped and he went back to Great Britain with a flash drive disc. The billionaire captures his friend for an exchange but they both ended up being captured. Then they were in Air Force One the president of the United States airplane. Long story short Alex discovers that his father was an international assassin who was killed by MI6.
Reviewed by Salem Boyah
Point Blank
by Anthony Horowitz
Alex Rider in this book has to go to a school for the sons of the richest people in the world who gets in trouble with the law in other words their parents pays for them to go this school. Alex goes to the school as a son of a super market millionaire. When he was with the millionaire his wife and daughter who treated him bad when he was with them. He was shot at by her friends when they were hunting. He was tagging along with them he ended up saving her in a bullet train tunnel and then she tried to kiss him but he just walked away from her.
She tried to spoil his cover when the school was coming to get him from the house but he stopped her with a tranquilizer dart shot from one of the harry potter books which smithers gave to him. He also gave him a cd player which has a titanium saw in it and if he pressed the start button three times it will send out a homing beacon to tell MI6 that he needs to be extracted. He then arrived at the school which is in the French Alps the only way out is to either ski or snowboard down the mountain. All the trails are expert level trails once he was situated in the school he noticed that the students are acting the same as each other so he snooped around and discovered that there are identical rooms on the second floor of the school of the students rooms on the first hall which had warning bells ringing in his head he then later found the original students imprisoned in the basement but he then was knocked out by the vice principal of the school.
I don't want to ruin the storyline so I'll leave it at that.
Reviewed by Salem Boyah
Skeleton Key
by Anthony Horowitz
In this book Alex Rider was asked by MI6 to go to Wimbledon and be a ball boy for the main court. While he was there he stopped the Yakuza from rigging the matches. He then went on summer vacation with a girl he met at Wimbledon who was called Sabina Pleasure. He then was nearly drowned/killed by one of the Yakuza. He then had to get out of Great Britain for a while so they smoothed things out with the Yakuza so he has to go to Cuba with some CIA agents to so a reconasiance mission. So he then discovers that the CIA agents are actually looking for a nuclear bomb which the KGB guy supposedly has.
Reviewed by Salem Boyah
Stormbreaker
By Anthony Horowitz
This book is about a high schooler who's uncle is a spy for MI6 and when his uncle dies in a accident which in truth he was assassinated by assassin MI6 forcibly recruits him by blackmailing him with forcibly sending jack star bright who is his legal guardian after his uncle dies because she doesn't have a green card which enables her to stay in great. Britain after MI6 recruits him they send him to spy on a multibillion air who is donating the new age computer to all the schools in Great Britain they want him to find out what his true intentions are they have him be a winner of a sweepstakes which allows the winner to test out the storm breaker before it goes to all of the schools in Great Britain. They actually made a movie out of the book the movie was okay but they could've made it a lot better by trying to stick to the book more than branching out and creating their own storyline if they did they could've of easily made the rest of the series into movies and it could've of been a hit if it happened. If I was them I would reboot from the first movie keep the actor who was Alex rider and stick more to the books storyline and not have some parts of the book in the movie and the rest was added.
Reviewed by Salem Boyah
This Book Isn't Fat It's Fabulous
By Nina Beck
Riley is feeling all alone. She doesn't get along with her soon to be stepmother. She feels that Elizabeth doesn't like her. She feels even worse when Riley's dad decides to send her to Fat Camp. New Horizon is in upstate New York. It is a camp for overweight girls. Her best friend is D. She tells him everything. She may even be in love with him. She kisses him to see if she is but the kiss wasn't that good. Now she is even more confused. She tells all her friends that she is going to a very expensive spa for a couple of weeks. She can't tell then where she is really going.
Riley gets to the train station to start her new adventure. Eric is waiting for her when she gets there. Later she finds out who Eric is. He is the head mistresses of the schools son. Oh no. What kind of trouble can Riley and Eric get into. You will have to read the book to find out. This is the first book in the series. The second one is This Girl Isn't Shy She's Spectacular.
Queen Geeks in Love
By Laura Preble
Shelby and Becca created the Queen Geeks. Becca isn't seeing anyone but Shelby just started dating Fletcher. She really likes him but isn't sure how she should act when she is with him. She makes it look like she doesn't really care about him. Becca starts getting poems from a guy that was wearing a rabbit suit at a party that she was at. She has no idea who he is. She is trying to figure out from the poem who it could be. The Queen Geeks decide that they are going to have a Halloween party and really want it to be spectacular. All of the school geeks are invited. This is a fun read.
Jimmy Coates: Assassin?
By Joe Craig
62% Action – 38% Thrill – 100% Adventure! This book is about a young boy around 13-14 years old chosen by people in black suits. He doesn't know why they need him so he is on the run from the black suits and the local police. They both need him for an unknown reason. I give this a good thumbs up it has non stop action seems so real that it seems like you are right in the middle of it so you young teens hope you like this book I did at least!
Reviewed by Salem Boyah
Coffehouse Angel
Suzanne Selfors
Katrina works at her grandmother's coffee shop. She went in the alley to throw the trash in the dumpster when she found a guy sleeping in the alley. Her first thought was that he was homeless. She noticed that he was wearing a kilt. She decided to leave out coffee and a snack for him to eat. Katrina went back to check on him and he was gone. Once Katrina gave him the snack her life would change forever. It was like he was an angel sent from heaven.
This is a great book. I would highly recommend it.
Lost
By Jacqueline Davies
Lost is historical fiction. It is set on the Lower East Side of New York in the early 1900's. Essie is responsible for taking care of her siblings. Her mother works at a bakery and Essie works at a clothing factory. Essie befriends a new worker, Harriet. Harriet has her own apartment and seems to be doing fine financially. Essie starts going over to Harriet's every night. Essie starts to think that Harriet is hiding something. That she isn't being truthful. Essie has had loses in her life and has tried to keep on going. There is a fire at the factory that she is working at and she is trying to survive.
If you like historical fiction this one is for you.
If I Grow Up
By Todd Strasser
DeShawn lives in the projects. Every day he doesn't know if he will be alive at the end of the day. There is violence, killings and drugs. There are gang fights daily. DeShawn is a good kid living with his grandmother and sister.
Guns firing are happening all the time. DeShawn doesn't want to join a gang he wants to survive without getting involved. His friends are all in the gang that is in his project. This is an accurate account on how some teens are growing up.
This Girl Isn't Shy She's Spectacular
By Nina Beck
Samantha's dream is to get into the writing program at UCLA. She is currently in a boarding school but wants out. She moves back home and goes to public school. She and her friend Riley go out to a bar and Samantha meets a boy with a British accent. They hit it off. Sam gets his number but doesn't know his name she calls him the boy. The next day at school she comes face to face with the boy. He is one of Riley's best friends. His name is D. Throughout the book you are wondering if Sam and D are every going to get together. You will have to read to see.
Fang
By James Patterson
Max and other other bird kids are at it again. Angel has decided that the flock should be split up and she should be the leader. She asks the kids for a vote and they vote Max off the island. Angel is now going to be in charge of the flock. Once again there are Erasers chasing them and Dr. chu trying to capture them and Jeb is back in the picture. If you like all of the other books in the series this is worth checking out.
The Summer I Got A Life
By Mark Fink
Andy is all excited about his trip to Hawaii with his family. He can tell something is up by the way that his parents are acting. Andy finds out that the trip is cancelled and he and his brother are going to Wisconsin to stay with their aunt and uncle that they don't even know. Their aunt and uncle are throwbacks to the 60's and are very different than their parents.
Andy and Brad are in for some exciting times in Wisconsin. This book is funny, inspiring, and just great.

WEREling
By Steve Feasey
This book is about a fourteen year old boy (Trey) whose life has changed after he becomes a werewolf. He wakes up with his room trashed, walls were slashed and then a stranger appears claiming that he is his long lost uncle but ended up that he wasn't. He was a close friend to his father and mother who was murdered when he was young. He discovers that he is a natural born werewolf because. Both of his parents were werewolves that means he can morph at will day or night he doesn't have to follow the moon cycle like normal werewolves.
I liked the book because it was a easy read the book is really about Trey finding out if he is boy or beast, it only really had three fight scenes. Anyone who likes fantasy books will like this book old or young. I can bet that the author of this book will make 3 more books after this one with Trey fully controling his powers and finally defeating the bad guy.
Reviewed by Salem Boyah

Jack Blank and the Imagine Nation
By Matt Myklosch
So Jack Blank is about this boy who lives in an orphanage and he goes with Jazen Knight who is an android to imagine nation a floating island that can only be found by thinking on finding it. He nearly was exiled from the island because he had evil nano bots in his body, instead he put under house arrest he then is going to be observed the the council to see if he is able to be accepted into the school of thought which is the best super hero school on the island. The story had few common sense like finding who you truly are and fate/destiny.
Reviewed by Salem Boyah
The reviews listed below were submitted by a number of teens during the Teen Summer Reading Program
Point Blank
Anthony Horowitz
"Point Blanc" contains a very strange mystery and gives you an idea of what duplication might be like.
Stormbreaker
Anthony Horowitz
"Stormbreaker" is a very fast paced story that introduces you to the Alex Rider series.
Cahills Vs. Vespers Book Three The Dead of the Night

Peter Lerangis
Another nearly impossible mission is given to the Cahill's, and they are starting to find problems and they find out some very emotional information.
Cahills Vs. Vespers Book Two A Kings Ransom
Jude Watson

The Cahill's are starting to think that they have become on the winning side, but, it occurs to them that the Vespers know exactly what they are doing.
Coffeehouse Angel
Suzanne Selfors
This was an awesome book. It kept my interest and I didn't want it to end.
My Sister's Keeper
Jodi Picoult
Anna Fitzgerald was born for a specific purpose, to be spare parts for her sister Kate. Kate has leukemia and needs a kidney transplant. Everyone is counting on Anna to donate but she doesn't want to. Instead in the time of a family crisis she files a lawsuit against her parents for the rights to her own body.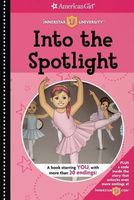 Into the Spotlight
Ellen Falligant
I liked into the spotlight.
Kit's Home Run
Valerie Tripp
I loved the book. It's great for girls.
Diary of a Wimpy Kid
Jeff Kinney
This story focused on how to live through your middle school years using humor and how kids can easily relate to similar situations at school.
Diary of a Wimpy Kid Dog Days
Jeff Kinney
Its summer vacation and Greg would rather be playing video games then enjoying the nice weather, his mother wants the family to be together and have more time as a family. Also a new addition is added to their family.
Lord of the Flies
William Golding
A plane full of school boys crashes on a uncharted island. There are no adult survivors. The children vote for leaders/chiefs they must find food, water and most of all try to get back home.
Ouran High School Host Club Volume 18
Bisco Hatori
A deliciously satisfying ending to one of my favorite series of books/manga.
The Hunger  Games
Suzanne Collins
The hunger games is a amazing book about our world in the future. There is a country Panem and 12 districts and the city the Capitol. Each year the Capitol forces each district to send one boy and one girl tribute to fight to death on tv.  Katniss Everdeen risks her life and volunteers as tribute for her sister Prim.
The Miraculous Journey of Edward Tulane
Kate Dicamillo
A story of a toy rabbit that goes on a journey trying to find love.
Earthquakes
Paul Mason
A book on earthquakes, uses facts and witnesses to describe the horror of a earthquake.
Night
Elie Wiesel
A nonfiction story of a boy who was torn away from everyday life, separated from family and had to live in one of the worst concentration camps Auschwitz.
The Spiderwick Chronicles (1,2,3,4,5)
Tony DiTerlizzi & Holly Black
This 5 book series was about the Grace family who move into a new house. Jared Grace finds a book about faeries the more he reads the more he knows and the more the goblins want to get hold of the book.
City of the Beasts
Isabel Allende
City of the Beasts was about Alex Cold his mother Lisa got very sick, his father was taking her to Texas for more treatment options. He sends his son to live with his grandmother Kate who is preparing for a trip to the Amazon.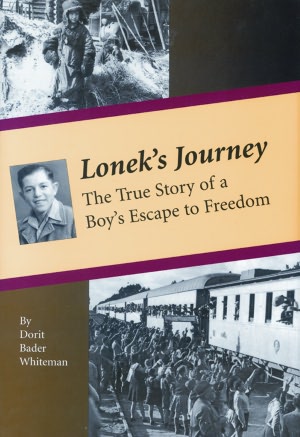 Lonek's Journey
Dorit Bader Whiteman
A true story of a Polish Jewish  slave in a prisoner camp in Russia during World War II.
Catching Fire
Suzanne Collins
After Katniss Everdeen and Peeta Mellark win the Hunger games they are faced with the danger of being killed because of a rebellion. President Snow holds a Quarter Quell and once again Katniss and Peeta are in the arena. But now Katniss does not care about protecting herself only Peeta.
Mockingjay
Suzanne Collins
There is no District 12 Peeta is gone, taken prisoner by the Capitol. Now Katniss must enforce the rebellion by becoming the mockingjay and over rule the Capitol.
Hunger Games the Official Illustrated Movie  Companion
Kate Egan
A great movie companion to the hunger games, allows readers to know all the work it took to create hunger games the movie.
Ida B.
Katherine Hannigan
Ida B. has the perfect life doing everything that she loves. Ida B. hates change. After her mother gets cancer she must learn to deal with many new changes .
Save
Save
Save